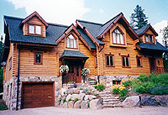 Our tradition is Quality, our mission is Satisfaction
LAURENTIEN Log Homes LTD has been producing Log Homes in the Laurentien mountains of Quebec under existing management since 1974.
We do not receive customers at our production facility. Contact must first be made by tel: 819 425-7680 or email: info@loghomes.ca
Beyond our 40 years of manufacturing experience, we have 25 years of experience in general contracting, construction and project management.
We have numerous completed projects all over North America and, amongst others, Japan, Taiwan, Israel and the Caribbean showing our ability to succeed and understand various cultural and environmental conditions.
Whether it be for a single family home or a spacious, luxury model, you can count on the quality of our personnel and our multiple resources: saw mill, planing mill, cabinet shop and computer assisted design facilities, dry kiln and preservative application facilities.
To these resources are added numerous services from technical advice (if you wish to build or supervise your own construction) to partial or complete installation by associated building professionals.
If you dream of having a well built, solid, durable log home, with exceptional charm, you can depend on us. Our firm is well known for its attention to detail, its dependability and its integrity. Choosing Laurentien Log Homes to accomplish your project is the right choice!
We are here for the long term. You can count on us today to help you accomplish your project and in the future as well, if needed, we will be there.
A few of the reasons why you should look to Laurentien Log Homes Ltd. to serve your needs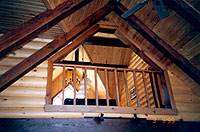 When it comes to log buildings, no other company can match Laurentien Log's unique tongue and groove interface. This strong and exacting interface will provide you with a log structure built to last the tests of time.
Choosing the right log home supplier will play an integral role in making your project a satisfying and successful experience. Laurentien Log homes experience and integrity will ensure that you have the best chance of success.
A clear and concise construction guide is continually updated providing user friendly building methods and materials. The faster and easier the project goes, the cheaper and better it ends. We strive to make the building process as smooth as possible by answering questions before they arise and by providing helpful suggestions developed from years of log building experience. If you are the builder yourself or you use a professional builder, you will find invaluable help in this construction toolkit.
The value added products in a Laurentien Log kit will have been researched and tested by our professionals for quality, warranty, ease of installation and reliability.
Our warranty is one of the best in the log home industry. Many companies make outrageous claims, however we pride ourselves on having a 10 year warranty in which you can have confidence we will be able respect.
We offer you almost unlimited log styles. We are equipped to do custom milling if you don't find what you are looking for in our more than twenty standard log styles and shapes, just tell us what your needs are and we will do our best to provide it.
A complete range of services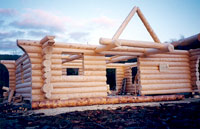 We have a wealth of experience and technical knowledge ready to pass on to our customers whether they be owner builders or contractors.
Custom plans for homes, cottages, business and small industry


Construction planning according to site topography


Consulting and estimating


Video and construction manual for complete assembly techniques


Technical assistance for assembly


Finishing products


Technical advice on infrastructure and mechanical systems


Complete lists of materials and sub-trades required to complete a project from A to Z


Pre-cutting of finishing materials for overseas projects.