TIMBER SERIES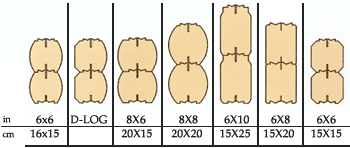 ISO-LOG SERIES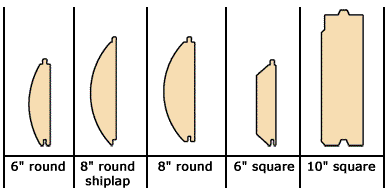 Since its foundation in 1974, LAURENTIEN has made log home kits using century-old Scandinavian log construction techniques blended with modern machinery and technology.
The solidity and durability of Laurentien Log Homes is due to the quality of our materials and especially to our milling techniques. Air infiltration is the largest determining factor in heating costs and home comfort, therefore this is the item we strive the hardest to overcome. We succeed very well and you can benefit from our success. Research and testing of the many new and unproved accessory products coming onto the market are an ongoing process at Laurentien Log Homes Ltd. These tests are complete before the products get to our customers.
Here are four major points that make us one of the best log home manufacturers producing today:
Point I - All of our logs are milled from selected White Pine, White or Red Cedar timbers, the most stable of woods available and the best insulators against both cold and heat. It is also a natural air filter, refreshing stale air by removing normal household pollutants. Treating the log surfaces with a quality, breathable finishing product ensures minimum maintenance and maximum results.
The precise fit of our log interface can be attributed to the exclusive Bouvètriple®, triple tongue and groove joining system. Three convex tenons are milled to fit the three opposing concave grooves with exact tolerances and the weight forcing down the angled tongues toward the center of the logs causes a squeezing action which tightens with time. The wall becomes a solid mass of air tight, and water tight wood. The integrated expansion cut relieves tension in each log, thereby minimizing cracking and checking on the surface and helping the squeezing action to work effectively. This special system was developed over 90 years ago in the Scandinavian countries. Laurentien Log Homes has made a few changes to insure the utmost quality in a modern log home construction and to benefit from the application of some contemporary technology.
POINT II - The corner assemblies are simple and impeccable. We make a full saddle notch corner for the utmost in strength for both round and square logs. A full saddle Notch Corner is one in which both upper and lower logs are notched so one log fits over the other and is interlocked into place making an extremely strong building.
We offer dovetail corners with through bolting for typical "piece on piece" log construction with a fine furniture quality appearance and traditional log home solidity.
Both corners are designed to shed water and eliminate air infiltration.
POINT III - Superior Insulation. For those who wish to have the utmost in current technology we offer Supe-R logs. These are log walls that have their R values boosted by the insertion of high density foam blocks into the center of the logs. The possibilities are limitless. The 6" or 8" log with a foam block insertion is the ultimate in log wall thermal performance. This is an option not necessary for many regions but available for those who may require it.
POINT IV - Another key factor that should be considered when buying a log home is how well are the logs sealed at the butt joints or where two separate logs are joined in any one row of logs. Again, Laurentien Log Homes is a leader in the industry and has developed a far superior system.
As you can see we have cut a 1.5" by 1.5" groove in each log where they meet. This groove is called a dado joint. Before putting the next course of logs in place, the dado groove is packed with an insulating and wind stop material as well as a water seal. At the dado joint no air can possibly get through.
We could add many other interesting details about our exclusive design but we would rather answer your questions personally and give you information that is pertinent to you and your project. Let us add that you have an extensive choice of log styles, shapes and sizes. Even for those who wish to have a Hand-crafted full scribe log kit we are able to meet your needs in all dimensions and most styles. Red or white cedar is also available by special order.
All of our log styles and thickness are selected machine dressed to expose the richness of even grained wood. These logs will weather beautifully with age when protected with quality stain.